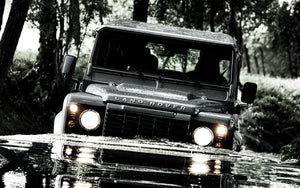 The Landrover 90 and Defender
One of the greatest engineering feats designed and sold in Britain of our time has got to be the Land Rover series and defender. Designer back in 1948 by Spencer Wilks who used a jacked up rover to move around his land and this was named the "Land Rover" the Land Rover was then super ceded by the series one in 1958 and at this point was still on a ladder frame chassis and aluminium body which is still similar today in the latest model the defender. In 1971 the series three was launched and this came with a Synchromesh gearbox and a wider range of engines.
As the engineering moved on the Land Rovers ability to navigate rough terrain also improved and this is in part due to advances in general engineering and products, with companies like Bearingtech supplying wheel bearings from FAG and TImken, top manufacturers of bearings for the defender its no wonder this vehicle is so robust.
In 1983 the 90,110 and 130 Land Rovers were launched and further improvements had been made the brilliant initial design. With things like disc brakes and and coil-overs now fitted the vehicle was able to provide a little more comfort and stop like a car. then in 1990 the ever popular defender arrived and today boast a undoubtedly colt following including bearingtech's e-commerce director. 
---